Veteran Owned
Snow Retention Services:
A classic, medium-profile, proven snow guard (since 1924)
A sample layout design based on several calculations
Installation experience over 36 years

Member of National Slate Association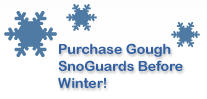 Why Made in the USA?
Metal Roof Snow Guards
SnoGuards™ Experience
Frank was my mentor for doing architectural copper work in the 1970s and taught me the installation process of Snow Guards on many types of roofs. Having had extensive experience installing and manufacturing these SnoGuards for over 30 years, the shop was passed down to me. Gough SnoGuards are still produced and operated from the same shop since 1924.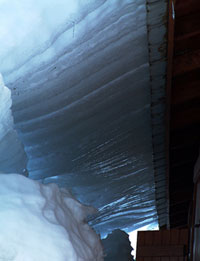 One Of First SnoGuard™ Manufacturers
Being one of the country's first snow guard manufacturers, these snow guards have been installed through the snow belt on countless churches, schools, village halls, libraries, museums, businesses and fine residences from New England, to Chicago's Holy Name Cathedral, to residences in the mountains of Colorado and the copper dome of Utah's Supreme Court Building.
For Strength, Endurance and Aesthetics - this snow guard is used in new construction AND is easy to retrofit. Versions are adapted for Slate, Ludowici Tile, Asphalt shingles, Wood shakes, Copper, and Painted metal roofs. If you have a new application or questions, call us.
Consulting & On Site Visits Available
Please call for further information.
•
Yahoo! Local Listing
Gough Snoguards is located in Brookfield, IL and serves Snow Retention Devices nationwide including the Chicagoland area of Berwyn, Oak Park, Oak, Lawn, Lombard, Elmhurst, Harwood Heights, Park Ridge, Evanston, Oak Forest and more!