Veteran Owned
Snow Retention for:
Slate
Ludowici Tile
Asphalt
Copper
Standing Seam
Snow Retention Systems, Weight Distribution, Snow Guards by Gough SnoGuards™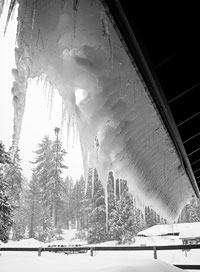 Sheet Metal Snow Guards
Gough SnoGuards is the original sheet metal Snow Guard - originally by F.C. Cody, which has provided Snow Retention solutions since 1924. Gough Snow Guards is one of the country's first Snow Guard manufacturers.
Snow Retention – Slate, Tile, Copper & more
Gough SnoGuards is your one-stop shop for Snow Retention! We provide estimates and sales for Snow Guards, Snow Rails, Snow Retention Systems, Ice Guards, Snow fences, Snow Retention Devices, S-5! and more! Gough SnoGuards can be used on all types of roofs, including Slate, Ludowici Tile, Asphalt, Copper and Standing Seam metal.
Protection from falling ice
Snow Retention Systems are used for protection from snow and ice sliding that can and will slide off of roofs with changes in temperature and weather. Use Gough Snow Guards to help keep snow from avalanching from your roofs. Help preventative maintenance and life safety. Help protect your family and yourself from the potential dangers of falling snow and ice by installing Gough SnoGuards on your roof.
•
Yahoo! Local Listing
Gough Snoguards is located in Brookfield, IL and serves Snow Retention Devices nationwide including the Chicagoland area of Berwyn, Oak Park, Oak, Lawn, Lombard, Elmhurst, Harwood Heights, Park Ridge, Evanston, Oak Forest and more!